When I travel solo I take a lot of my own photos but there are sometimes when I need to get help with photography. There are places or situations that I have been in where taking my own photos just aren't feasible or logistically possible and asking random person isn't going to cut it. And sometimes, when my husband is travelling with me, I'd like to get a few nice photos with him. Here are some of the ways that I have successfully found and hired photographers for my travels.
Please note that while I have included the prices that I paid for these shoots for reference, prices change all the time for photographers and depend on many factors.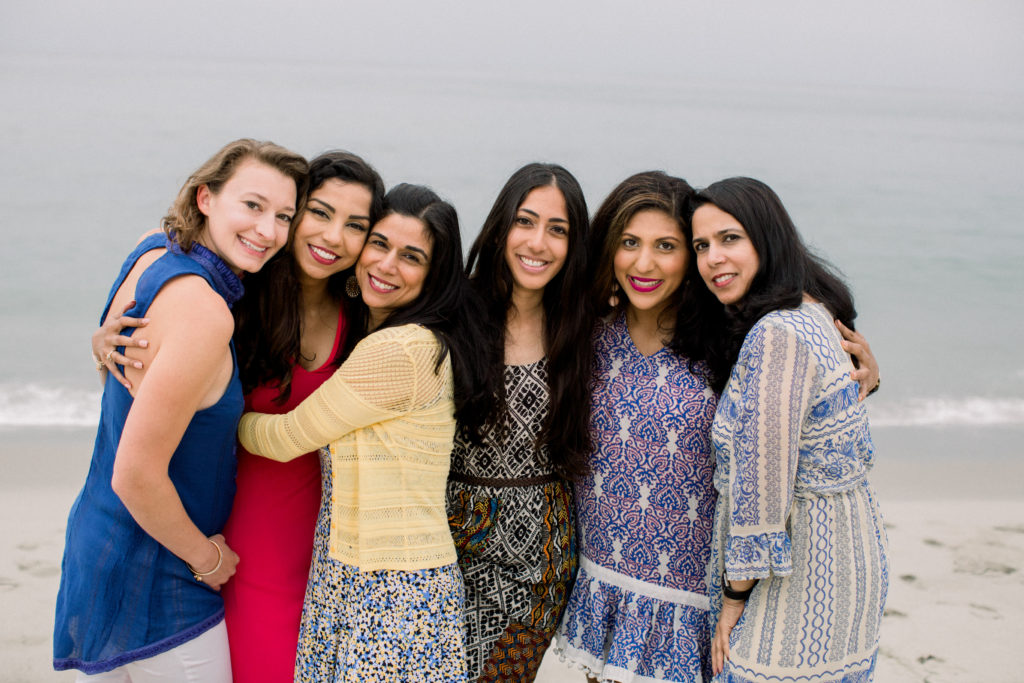 Photo by Natalie Bray
Flytographer
While on a girls trip to San Diego I wanted to do something special for not just the birthday girl but for everyone on the trip. We are a group of gals that love taking photos but it can be hard to get everyone in the shot. So I went to Flytographer's website and picked out a local San Diego photographer for our trip. On the day of the shoot we met our photographer at the designated meeting place set up by the Flytographer agent. We had a lovely shoot that lasted about 30 min. After less than a week, I got an email from Flytographer letting me know that my gallery was ready.
Cost: $250 – Paid to Flytographer
Shoot time: 30min
Number of Photos: 30 edited
Pros: Very easy to find a reliable photographer in a variety of locations. Prices are listed upfront and are mostly the same no matter where or which photographer you choose.
Cons: You aren't communicating directly with the photographer but rather a team of people, this can get frustrating because instead of having one point of contact you now have multiple. And you are also paying for them, I found this option to be expensive compared to others. I also found the final images to be on the small side if you were wanting to print them; they wouldn't be able to be printed much larger than an 8"x10". Not available everywhere.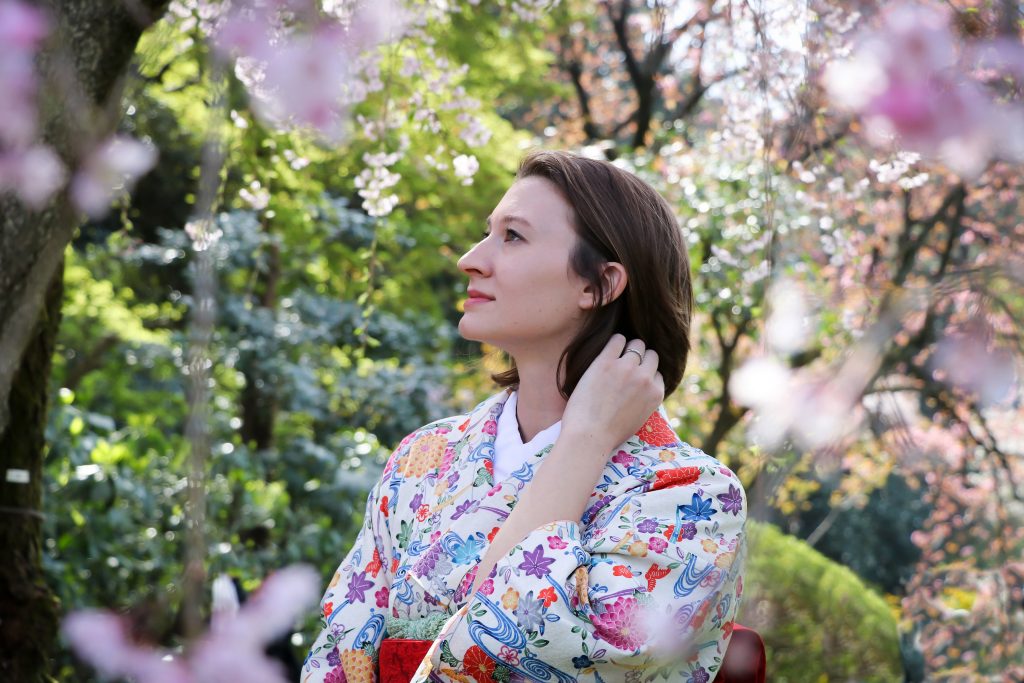 Photo by Ronski, Kimono dressing by Hiroko Hatano-Henry
Airbnb Experiences
Probably one of the coolest things I discovered while planning my trip to Japan was Airbnb Experiences. It lets people put their local experience and skill set up for hire. There are a wide variety of experiences available in many cities. When I was in Tokyo I booked a kimono photography session. This session included a kimono renal and professional dressing as well as a photography session with edited photos. I had the best time getting to dress up and have my photo taken at Shinjuku Gyoen National Garden among the cherry blossoms.
Cost: $176 – Paid through AirBnb
Shoot time: 3 Hours (includes dressing in kimono)
Number of photos: 36 edited
Pros: Easy to book and communicated directly with the photographer through the Airbnb website. Incredible value for this experience, while this might not be the case as each experience is priced differently. Costs are listed up front.
Cons: Airbnb Experiences are not available in every place that Airbnb is so the locations are still limited. Also, being able to book a photographer is largely dependent on someone offering that service to begin with.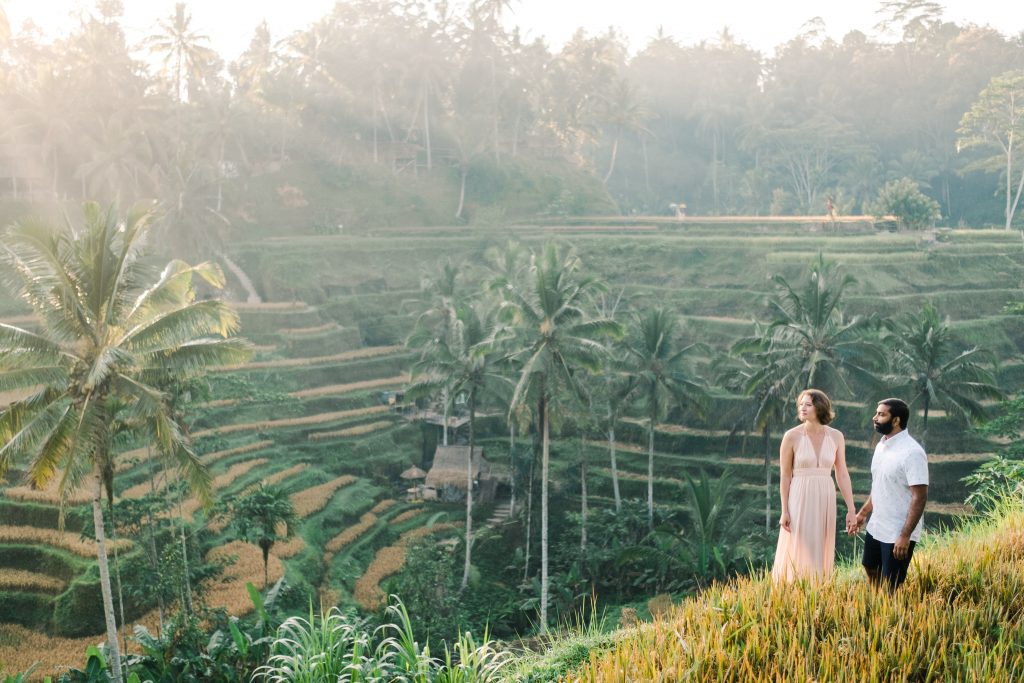 Photo by Gusmank
Google
For our 5th wedding anniversary, my husband and I planned a trip to Bali I wanted to get some photos taken of the two of us. We had never gotten any professional photos taken of us – not even an engagement shoot – so it was important to me that we have beautiful photos to take home from our vacation. After striking out on Airbnb Experience and not satisfied with the options available on Flytographer I turned to Google. I used simple search terms "Bali photographer," "Bali engagement photos," and "Bali wedding photographer." I found quite a few results and from there narrowed it down to what I personally liked. Once I selected a photographer I reached out to them via email. From there we agreed on a package price, dates, and location. On the day of our shoot, my husband and I met up with our photographer well before dawn for a beautiful morning at the Tegallalang Rice Terraces. A couple weeks later we received an email for our gallery.
Cost: $500 – paid in two installments over PayPal
Shoot time: 2 hours
Number of photos: 60 edited
Pros: Got to speak directly with the photographer. There was a large selection of photographers to choose from, overwhelming number quite honestly.
Cons: Because you are finding someone on Google and literally anyone can set up a website, you have to wary of scams.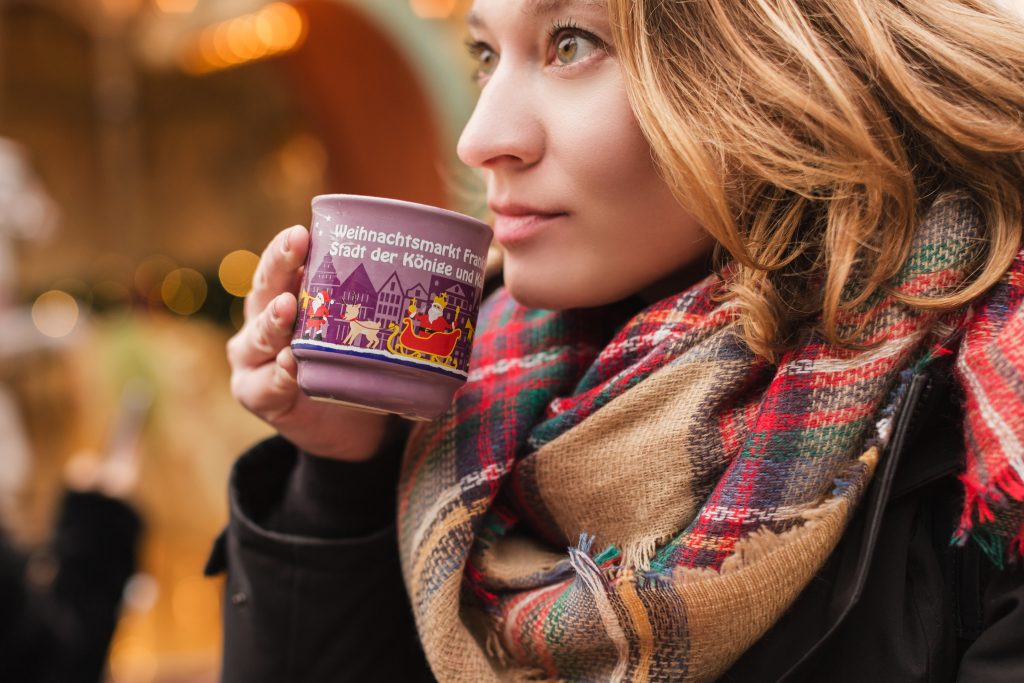 Photo by Olga Weber
Instagram
On my trip to Germany to visit the Christmas Markets I wanted to get lots of photos of me having a wonderful time. In thinking about the logistics of shooting in a busy, crowded area I quickly realized there was no way for me to get the shots I wanted with just my tripod. I was going to need to enlist some help. After not finding any Airbnb Experiences in Frankfurt where I wanted to have my photos taken, I turned to Google and didn't really like anything I found there and unfortunately, Flytographer doesn't service Frankfurt either. I was at a loss until I realized a simple but obvious solution was at my fingertips – Instagram. There are loads of photographers showcasing their work on Insta and all I had to do was search some hashtags to find ones I liked. I first searched #FrankfurtPhotographer and it was the only search I needed to do because right off I found a photographer whose style I loved and she had photos of a recent Christmas Market shoot right on her page. Her website was listed in her profile and I reached out to her through it to inquire about booking a shoot. We communicated over email about all the details and I met her on my first day in Germany. In a week I had an album of photos to choose ten that she would edit for me.
Cost: $170 – Paid in cash (Euros) at the shoot
Shoot time: 1.5 hours
Number of photos: 130 unedited, 10 edited
Pros: There were many photographers to choose from. I felt this was a more personal way to find a photographer than the Google search.
Cons: Once again anyone can start an Instagram page so make sure you are working with someone reputable, making sure they have a website or customer reviews can help with this.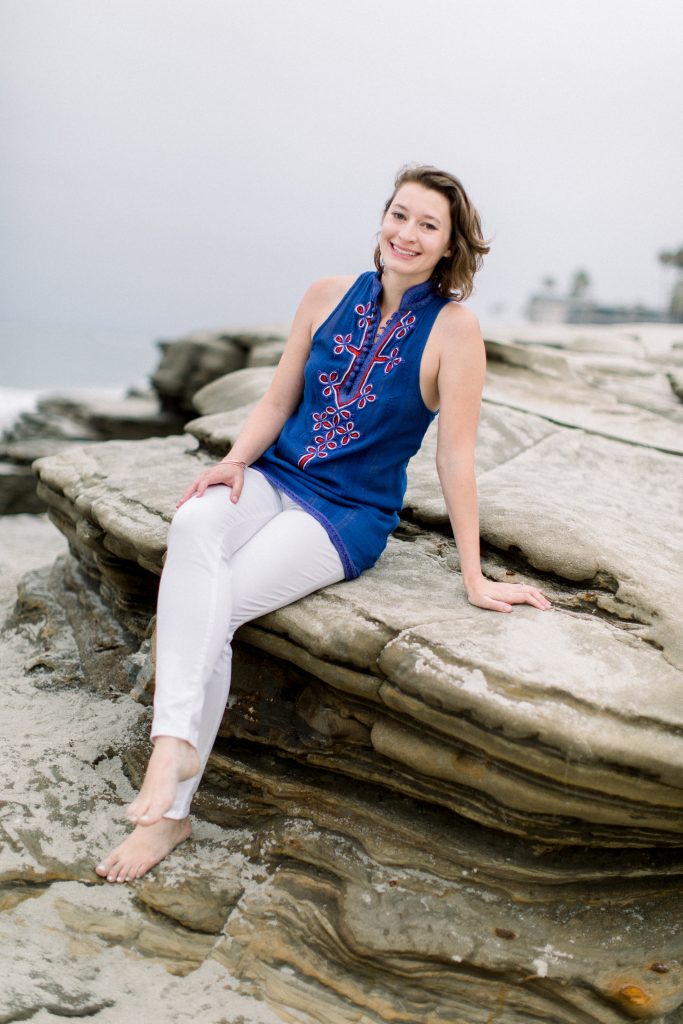 Photo by Natalie Bray
I know to some people hiring a photographer while you travel might seem like a ridiculous luxury but when you are spending a tidy sum of money on an amazing vacation I think that your photographs should be equally incredible. Also, a lot of the time the photographer is a local who will be able to show you something in their hometown you may not have noticed or discovered before. I highly recommend looking into hiring a photographer for your next adventure, because when you have an amazing photo of yourself it makes the memory all the more special.
Disclosure: This post may contain affiliate links, which means I may receive a commission if you click a link and purchase something that I have recommended. While clicking these links won't cost you any extra money, they will help me keep this site up and running as well as keep me traveling!